Diverticulitis Specialist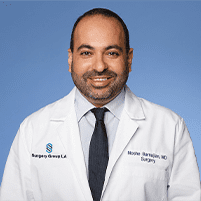 Moshe Barnajian, MD
Minimally Invasive and Robotic Colorectal Surgeon based at Cedars Sinai, Los Angeles
Diverticulitis, which affects roughly 35% of American adults over age 50, causes very small pouches to form in your colon, which leads to chronic abdominal pain, bloating, and irregularity. If you have a history of diverticulitis or are starting to experience symptoms, contact the office of Moshe Barnajian, MD, in the Beverly Grove area of Los Angeles, California, for an evaluation. Schedule your diverticulitis exam at this West Hollywood colorectal surgery practice directly online, or call the office to schedule a visit.
What are the causes of diverticulitis?
Diverticulitis generally affects your colon (or large intestine). It occurs when you have weak spots along the walls of your intestines that expand outward. These abnormal pouches are known as diverticula. 
If waste or bacteria gets trapped in the diverticula and blocks the opening, inflammation occurs. This condition is known as diverticulitis. Although medical researchers can't pinpoint a single cause of diverticular disease, they do find that the following factors increase your risk:
Low-fiber diet

Older age (over age 50)

Family history of diverticulitis 

Gender (more common among women) 
Diverticulitis is also more prevalent among men and women who are obese and have a sedentary lifestyle. 
How do I know if I have diverticulitis?
When you come in to the office of Moshe Barnajian, MD, for your diverticulitis exam, you undergo comprehensive diagnostic testing to confirm diverticular disease, as well as to rule out related issues (like liver disease). Dr. Barnajian could recommend:
CT scan

Stool tests

Blood or urine tests
Dr. Barnajian also performs a comprehensive exam. It's important to let him know about any of the diverticulitis symptoms you're experiencing, which may include:
Gas and bloating

Nausea or vomiting 

Diarrhea or constipation

Lower abdominal pain
In severe cases of diverticulitis, you might notice blood in your stool or even bleeding from your rectum. These are serious issues that warrant an immediate evaluation with Dr. Barnajian. 
Is there an effective treatment for diverticulitis?
Yes, treating minor cases of diverticulitis often involves making lifestyle changes, such as getting more fiber in your diet and reducing your red meat intake. If an infection is present, Dr. Barnajian may prescribe antibiotic medications.
For more complex diverticulitis issues though, surgical intervention might be necessary. Diverticulitis surgery can be as simple as draining abscesses of pus and repairing fistulas. 
In advanced stages of diverticulitis, Dr. Barnajian might need to perform a bowel resection surgery. Dr. Barnajian uses minimally invasive techniques, including da Vinci® robotic surgery, to make repairs, which helps reduce your downtime and discomfort after surgery. 
Click on the online scheduler to book your diverticulitis exam at the office of Moshe Barnajian, MD, today. You can also schedule your evaluation over the phone.