Robotic Colorectal Surgery Specialist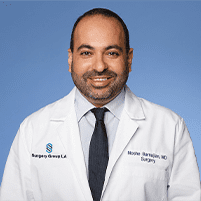 Moshe Barnajian, MD

Minimally Invasive and Robotic Colorectal Surgeon based at Cedars Sinai, Los Angeles
Robotic colorectal surgery with the da Vinci® platform is highly beneficial for treating colon cancer, inflammatory bowel disease, diverticulitis, and more. Because robotic surgical techniques result in a shorter recovery and less postoperative pain, among other benefits, board-certified colorectal surgeon Moshe Barnajian, MD, offers this surgical solution in the Beverly Grove area of Los Angeles, California. If you need a colorectal procedure or would like a second opinion, contact this West Hollywood-based practice today. Schedule your evaluation online or over the phone.
Robotic Colorectal Surgery Q & A

Why do I need robotic colorectal surgery?
Robotic colorectal surgery with the da Vinci system is a highly effective and often preferred surgical solution. This procedure involves inserting thin robotic arms into small incisions. Dr. Barnajian manipulates these arms to make repairs while watching a high-definition monitor. 
You may need to undergo a minimally invasive colorectal surgery to treat any of the following issues (to name a few):
Anal fissures

Colon cancer

Hemorrhoids 

Crohn's disease

Ulcerative colitis 

Fecal incontinence 

Intestinal obstructions

Pelvic floor dysfunctions
Robotic colorectal techniques can even be beneficial if you need to undergo an ostomy procedure, which involves creating a new opening in which waste can exit your body. 
What are the benefits of robotic colorectal surgery?
When you come in to the practice of Moshe Barnajian, MD, for a colorectal evaluation, you can expect thorough diagnostic and surgical management care. Dr. Barnajian spends quality time ensuring robotic colorectal surgery is the correct procedure for your unique diagnosis. When possible, Dr. Barnajian recommends robotic measures to:
Improve your results 

Shorten your recovery

Lower your risk of bleeding

Reduce the risk of surgical error

Minimize post-operative discomfort
Undergoing robotic colorectal surgery also leads to little-to-no scarring afterward, because Dr. Barnajian only has to make a few small incisions in your lower abdominal and pelvic area. 
How do I prepare for robotic colorectal surgery?
To prepare for your upcoming surgery at the practice of Moshe Barnajian, MD, you're likely going to need to follow a special diet ahead of time. Dr. Barnajian may tell you to consume nothing but clear liquids — after you have a light breakfast — the day before your surgery.
Preparing for robotic colorectal surgery also often involves:
Having nothing by mouth after midnight before your procedure

Taking only the recommended medications

Using enemas to clear out your bowels
Dr. Barnajian is diligent about ensuring you have the education you need going in to your procedure. He counsels you about all of the preoperative steps you need to take, as well as what to expect after your robotic surgery. 
You can undergo advanced robotic colorectal surgery at the practice of Moshe Barnajian, MD. Find out more information by booking an exam online or by phone today.