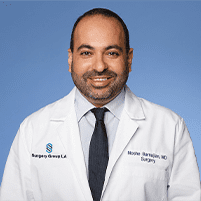 Moshe Barnajian, MD

Minimally Invasive and Robotic Colorectal Surgeon based at Cedars Sinai, Los Angeles
A common condition that affects more than 3 million Americans annually, hemorrhoids can lead to serious itching, pain, and tenderness around your anus. If you struggle with hemorrhoids, minor or severe, contact the practice of Moshe Barnajian, MD, in the Beverly Grove neighborhood of Los Angeles, California. Dr. Barnajian provides the most up-to-date hemorrhoid treatments in the West Hollywood area. Click on the online scheduling tool to book your hemorrhoid evaluation, or call to book a visit over the phone.
Why do hemorrhoids develop?
Everyone has some hemorrhoids, which are the cloud-like clusters of veins that lie just beneath the mucous membranes that line your rectum and anus. The abnormal issue — the "piles" or visible hemorrhoids — occurs when those veins become swollen and inflamed.
Hemorrhoids form for a variety of reasons, including straining regularly while passing bowel movements. The added pressure on your lower bowels during pregnancy is also known to cause hemorrhoids. Your risk further increases due to:
Obesity 

Older age

Chronic constipation

Abuse of laxatives or enemas
You may also be genetically prone to developing hemorrhoids, but no matter the cause, they're not something you should ignore. Hemorrhoids often progress over time and cause worsening symptoms.
Do hemorrhoids cause symptoms?
It just depends on their severity. But hemorrhoids are known for causing anal pain and soreness, especially while trying to pass bowel movements. Your hemorrhoids can also lead to:
Sore lumps 

Bleeding

Itching 
Hemorrhoids can cause so much discomfort, even pressure from sitting can lead to pain. If you're experiencing any of these symptoms, contact Dr. Barnajian for an evaluation. 
How does a doctor treat hemorrhoids?
For minor-to-moderate hemorrhoid issues, Dr. Barnajian may recommend a combination of conservative issues to help you get relief. Any of the following therapies can alleviate hemorrhoid symptoms:
Sitz baths

High-fiber diet

Fiber supplements

Increasing your water intake 
If symptoms are more severe, Dr. Barnajian could recommend a surgical solution to treat your hemorrhoids. 
One of the most common hemorrhoid procedures is a rubber band ligation. This treatment involves placing a small rubber band snugly around your hemorrhoid. The rubber band cuts off the blood supply, which causes the hemorrhoid to shrink and fall off after several days. 
Other types of hemorrhoid procedures include:
Injection and coagulation

Hemorrhoid stapling

Surgical removal (hemorrhoidectomy)
Once Dr. Barnajian treats your hemorrhoids, he counsels you about preventive measures. Continuing to boost your fiber and water intake, as well as exercising regularly, can help prevent hemorrhoids from recurring. 
Book your hemorrhoid evaluation at the office of Moshe Barnajian, MD, directly through the website. You can also call to schedule your appointment by phone.