Fecal Incontinence Specialist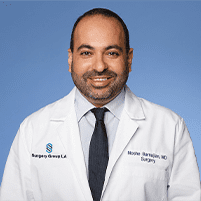 Moshe Barnajian, MD

Minimally Invasive and Robotic Colorectal Surgeon based at Cedars Sinai, Los Angeles
If you have difficulty controlling your bowels, whether it's occasional or daily, you have options available for treatment. With the help of Moshe Barnajian, MD, in the Beverly Grove area of Los Angeles, California, you can undergo innovative fecal incontinence solutions, so you can restore your quality of life and not have to live with the embarrassment of fecal incontinence issues any longer. Before struggling with fecal incontinence another day, contact this West Hollywood colorectal surgery practice for an evaluation. You can conveniently schedule an appointment online or you can call the practice directly.
What causes fecal incontinence?
Having fecal incontinence means that you have difficulty controlling your bowels. You may experience occasional unexpected leakage, or frequent episodes in which you lose a large quantity of stool. In any case, fecal incontinence can affect your self-esteem and make you want to avoid enjoyable activities. 
If you have fecal incontinence, any of the following issues may be to blame:
Dementia 

Hemorrhoids 

Crohn's disease 

Rectal prolapse 

Muscle or nerve damage

Previous rectal surgery 

Chronic constipation or diarrhea 
Fecal incontinence affects anyone of any age. However, women are more likely to struggle with it, because of childbirth, as well as hormone replacement therapy. Your risk is also higher if you're age 65 or over. 
When should I see a doctor for fecal incontinence?
Fecal incontinence isn't something you should ignore or put off getting medical treatment; the condition seriously impacts your daily life. Dr. Barnajian encourages you to come in to the clinic if you experience any issues with controlling your bowels. It's particularly important to have a fecal incontinence evaluation if you:
Soil or stain your underwear

Experience difficulty stopping defecation 

Have sudden, strong, uncontrollable urges to "go"

Have difficulty making it to the toilet in time (urge incontinence)
You should also visit with Dr. Barnajian if you have ongoing issues with bloating, constipation, or diarrhea. Dr. Barnajian performs a thorough rectal exam and conducts any other necessary diagnostic testing, which may include a colonoscopy, to get to the root of your condition.
How does a doctor treat fecal incontinence?
After finding the cause of your fecal incontinence, Dr. Barnajian counsels you about treatment options. Initially, he may recommend conservative treatments to minimize fecal incontinence issues. These may include:
Posterior tibial nerve stimulation (PTNS)

Sacral nerve stimulation (SNS)

Laxatives or antidiarrheal drugs

Vaginal balloon

Bowel training 

Biofeedback 
Surgery may be necessary to correct underlying problems, including rectal prolapse or sphincter muscle damage, among other issues. Because Dr. Barnajian has advanced training as a board-certified colorectal surgeon, including minimally invasive da Vinci® training, he's able to correct the most complex of fecal incontinence issues.  
Before fecal incontinence affects you another day, contact the practice of Moshe Barnajian, MD, for an evaluation. Click on the online scheduling tool, or call to book a visit by phone.