Rectal Prolapse Specialist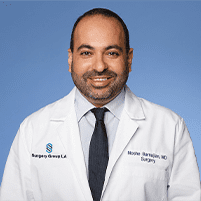 Moshe Barnajian, MD

Minimally Invasive and Robotic Colorectal Surgeon based at Cedars Sinai, Los Angeles
When rectal prolapse occurs, the lower part of your intestinal tract protrudes through your anus. Because rectal prolapse is known for lowering your quality of life, contact the practice of Moshe Barnajian, MD, in the Beverly Grove neighborhood of Los Angeles, California, for an evaluation. Dr. Barnajian provides expert rectal prolapse treatments using the most up-to-date solutions available in the West Hollywood area. Click on the online scheduling tool to book your rectal prolapse evaluation, or call to book a visit over the phone.
What is rectal prolapse?
Your large intestine stays in place with the help of connective tissues and muscles, as well as the support of surrounding organs and structures. If any attachments fail or weaken, your rectum can slip out of proper alignment and exit your anus. More easily stated, your rectum turns inside out. 
Rectal prolapse affects both men and women. However, this serious condition is more likely to occur in women over age 50. Chronic constipation or diarrhea, as well as vaginal labor and delivery, can all increase your risk of rectal prolapse. 
What are the symptoms of rectal prolapse?
When you have rectal prolapse, you're probably going to notice that there's a bulge or red-colored mass that extends out through your anus. Initially, this issue occurs during or right after a bowel movement. If left treated through, rectal prolapse worsens, which leads to:
Anal pain

Rectal bleeding 

Fecal incontinence 
Rectal prolapse can lower your quality of life and make you feel embarrassed. Before these issues affect you another day, schedule an evaluation at the office of Moshe Barnajian, MD, to get started on treatment. 
How does a doctor treat rectal prolapse?
In the early stages, rectal prolapse treatment can involve home care. Dr. Barnajian may recommend using stool softeners and learning to push your fallen tissue back inside with your hand. 
But surgery is generally necessary to effectively treat rectal prolapse and to provide permanent correction. Dr. Barnajian is a board-certified colorectal surgeon who specializes in minimally invasive procedures, including da Vinci® robotic surgery. 
The most common types of rectal prolapse repair are rectopexy and resection. During a rectopexy, Dr. Barnajian reattaches your rectum and sometimes places a mesh inside your body to support it. For more serious rectal prolapse issues, Dr. Barnajian can resection your rectum to help strengthen and support it.
Though less common, sometimes amputating the extending portion of your rectum is necessary. After removing the extended portion of your rectum, Dr. Barnajian sews the surrounding portions together. 
If you're experiencing rectal prolapse issues, you can receive comprehensive care at the office of Moshe Barnajian, MD. Book your rectal prolapse exam online or by phone today.