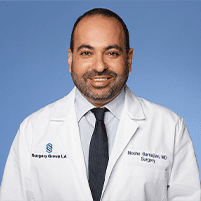 Moshe Barnajian, MD
Minimally Invasive and Robotic Colorectal Surgeon based at Cedars Sinai, Los Angeles
Dr. Moshe Barnajian always appreciates feedback from his valued patients. To date, we're thrilled to have collected 3 reviews with an average rating of 5 out of 5 stars. Please read what others are saying about Dr. Moshe Barnajian below, and as always, we would love to collect your feedback.
Karen F.
Submitted 05/13/20

I felt very comfortable and he is kind and understanding, and very patient.
Sherrie' Darnise B.

Submitted 05/12/20

As a new patient of Dr. Barnajian and his staff, I would like to say they are professional, kind and thoughtful. I owe a great deal of gratitude and appreciation to one of the best physicians of all times. He's is a God sent and absolutely "GREAT", "CARING" person. Much Success in your many endeavors. Thank you for saving my life. SDB
Annette B.
Submitted 03/23/20

Doctor was excellent, very understanding, explained everything, great bedside manners. I was very comfortable explaining a sensitive subject. He had a solution. The staff was wonderful as well